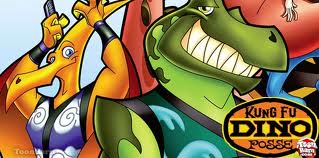 Welcome to the Kung Fu Dino Posse Wiki
Edit
Welcome to Kung Fu Dino Posse Wiki. From Cookie Jar Entertainment brings you the greatest pages. This wiki is an encylopedia about one of Cookie Jar Entertainment and Sunwoo Korea show: Kung Fu Dino Posse. Don't forget 2 watch the best episodes of KFDP weekdays at 9:25am only on CITV.
Describe your topic
Edit
Write a description about your topic. Let your readers know what your topic is about and add some general information about it.
Latest activity
Edit
Ad blocker interference detected!
Wikia is a free-to-use site that makes money from advertising. We have a modified experience for viewers using ad blockers

Wikia is not accessible if you've made further modifications. Remove the custom ad blocker rule(s) and the page will load as expected.